Miniature Bernedoodle
Miniature Bernedoodle-Looking for a great Mini Bernedoodle breeder? Tired of not finding what you really want out of the breeders in Wisconsin Illinois and Minnesota? Try Iowa's Top Dog Breeders Brian and Karen Sterrenberg! They have the best colors and temperaments. There are still some Miniature Bernedoodle puppies for sale out of Bailey's litter. Call for details 1-(641)588-3110 brian@purebredpups.com
Miniature Bernedoodle Litters For Sale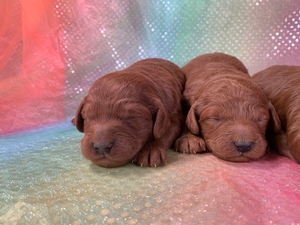 Iowa's Top Breeder Has Highly Awaited This Litter! Puppies Available Now!
Miniature Bernedoodle Dogs for Sale
We currently have no Miniature Bernedoodle for sale. If you would like to be notified, please contact us and we will notify you when our Miniature Bernedoodle become available.
About Our Miniature Bernedoodle Breeding
Dark red Mini Bernedoodle puppies for sale. Iowa's top dog breeder has openings for puppies right now! Two new litters of Miniature Bernedoodles on the way later this month! Most puppies will weigh about 20-35 lbs.