Two Male Miniature Goldendoodles Born on Feb. 28 F1b puppies #5 and #6. Dark Red Iowa Puppies for sale.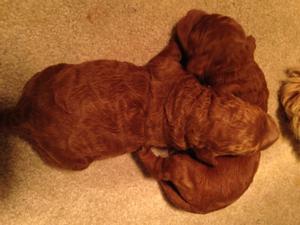 Reserve This Puppy
This puppy is currently sold. Sign up to our email list to stay informed of future expected litters.
Detailed Information
Very dark red mini goldendoodles for sale near Joice Iowa. The puppies are easy to find near I-35, close to the Iowa Minnesota line. Open by appointment daily 1-641-588-3110 brian@purebredpups.com
Shipping Available!
Request More Information or Call 641-588-3110