Male Standard Poodle Puppy for sale #1 DOB 12-18-13 Standard Poodles By a Professional Standard Poodle Breeder in Iowa!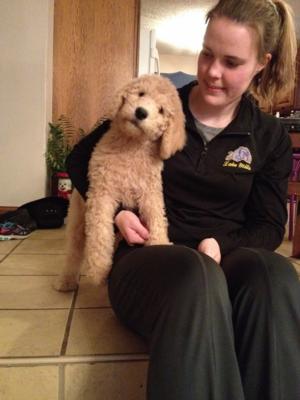 Reserve This Puppy
This puppy is currently sold. Sign up to our email list to stay informed of future expected litters.
Detailed Information
One Male Standard Poodle for sale. He is out of Chloe our house dog! He has spent most of his time in the house. He loves our kids and knows how to play nice!
Need to order food?
Here is the link http://www.lifesabundance.com/discounts
Any place you see this link on purebredpups you can place order. It takes you to a replicator site that is owned by Purebredpups. As long as you order the puppy food or adult food on the auto shipping Program, Purebredpups will guarantee the Puppy for an extra year. All puppies come with a one year guarantee already. Ordering the food by auto shipment will give you a two year money back guarantee on health and genetics for the Purchase Price of the puppy.
Request More Information or Call 641-588-3110