Purebred Pups Testimonials
Here's what a few of our customers have had to say about us.
Have a testimonial of your own to share? Click Here fill out our short testimonial form.
Lisa, Mack & Kaitlin
Winter 2016 - Ankeny, Iowa
My girls and I were looking for a friendly, handsome little guy to complete our family and we found just the one. Cooper was born in December 2016 and he joined our household in February 2017. We couldn't have made a better choice. Cooper is a smart and social boy. He was quick to potty train and enjoys everyone he meets. He is a perfect size for my townhome, enjoys walks, play dates with Ruby (who also lives in Des Moines) and he has even learned a few tricks. Attached is a photo from his birthday earlier this month and Christmas 2017.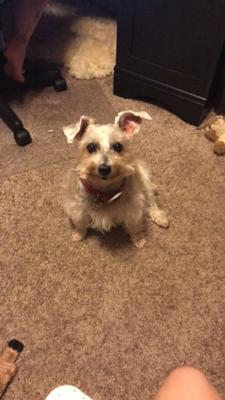 Tabitha
2004 - Hastings, Minnesota
It's been 12 years since we got our schnoodle! She is so sweet and makes a lovely friend! Tabitha is a lively and healthy 17 pound little lady! I highly recommend this Breeder if you are looking for a good blood line! Thank you so much for our friend!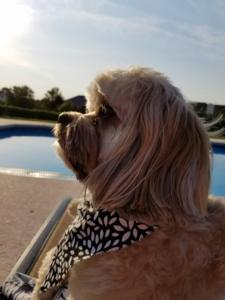 Tracy Family
August 2014 - Iowa
We love out Lhasa Bichon, Dakota. She is sweet, loving, calm, and the cutest dog! Adding her to out family was the best decision we could have ever made!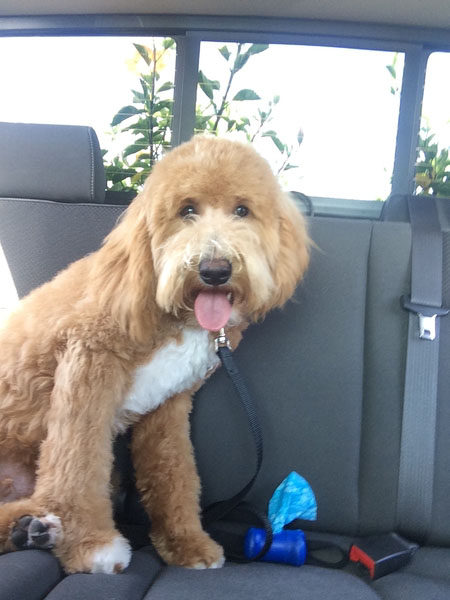 Frank
Mini Goldendoodles
Hello,

Thank just wanted to send you a quick note to THANK YOU for choosing us to be Franks parents. He has such a laid back personality, we call him a cat. He pounces like one and walks/sleeps along the back of the couch like one too. He LOVES water- sprinklers and his dog pool and his favorite toy/game is the rope for a game of tug-of-war with his big brother, Larry.

Here are some picture updates. And again, a great Breeder is reflected in the dogs they produce. He is simply perfect!
Meech
Fall 2017 - Thibodaux, LA
My husband and I are in love with our mini goldendoodle. He is so playful and loves to be held. Thanks again for such a wonderful addition to our family!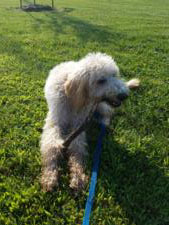 Jasmine
Spring 2017 - Olathe, KS
We are so grateful for our Labradoodle Pup - Ryder Hero. He is so smart, kids friendly, and just a great addition to our family. Brian, thank you for providing us a great puppy --we got the best pup.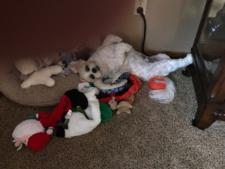 Linda Wilson
Winter of 2015 - Sioux Falls SD
This is Gracie, our little Shichon. She is the sweetest and cutest little friend. Her disposition is wonderful and she loves everyone including other puppies and even cats! She is known throughout our neighborhood as everyone else loves her too. I did research on breeders and found Purebred Pups to be the best for us. They absolutely take pride in what they do as you can tell by the quality of the puppies.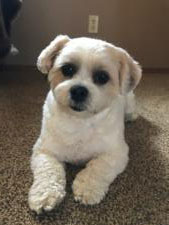 Tom & Linda Wilson
Winter of 2015 - Joice Iowa
This is our little Shichon Gracie. She is 2 1/2 years old now and is the sweetest little thing. She is known around the neighborhood because when we take walks everyone has to stop and say something to her. The reason I would go with Purebred Pups is because I know after seeing many Shichons that I got a quality puppy. Ours is a bit on the stocky side, but she was from little on and that's what makes her cute. She is healthy and loves us as much as we love her!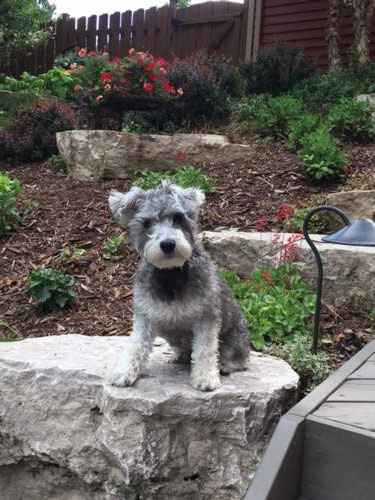 Benson
Hello,
Just a quick note to tell you how happy we are with our Schnoodle – we love him and he has the best little personality! He is great with our kids, grandkids and grand dogs and has quickly become a very dear member of our family. Attached is a picture of Benson at 7 months!
Thank you so much,
Diane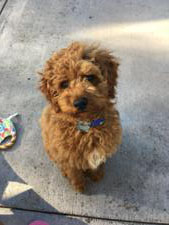 Robyn and Tim Dahl
Spring 2017 - Vancouver WA
Toby is our 4 month old Poochon that we got from Purebred Pups and we already love him to death! I flew from OR to MSP to pick him up and the whole experience was made easy thanks to you all meeting me there with our newest family member!! He's smart, healthy, and growing too fast. Thanks again!!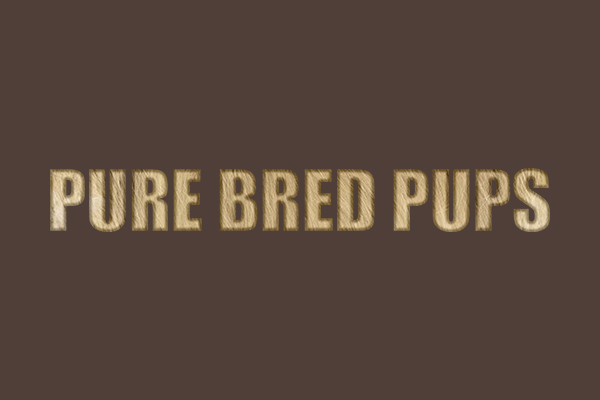 Tricia and Jeff Wisniewski
May 2014, May 2017 - Appleton, wi
We now have 2 wonderful boy schnoodles from Purebred pups. Bandit is now 3 and Indy is 4 months old. Both enjoy spending time outdoors. We have taken both motorcyle riding, kayaking, boating/fishing and live to be around the campfire. We have had nothing but good interactions with Brian and Karen. Thanks for making our family a foursome.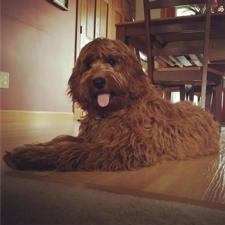 Berklee
February 2017 - Iowa
Berklee is almost 6 months old and we love her more each day. Our experience with Pure Bred Pups was so easy and fun. They were great about sending pictures as she grew and keeping us updated. We really enjoyed the loving family atmosphere of Pure Bred Pups. Berklee is spunky, energetic, curious, LOVES people, is well behaved (most days), and is super cuddly. We couldn't have had a better experience in bringing home our four legged fur baby!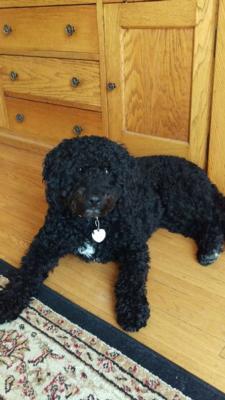 Sully
Fall 2016 - Austin MN
Sully the Mini-Goldendoodle came home to us on Halloween day 2016. He is such a good boy. We, and everyone else, absolutely love him.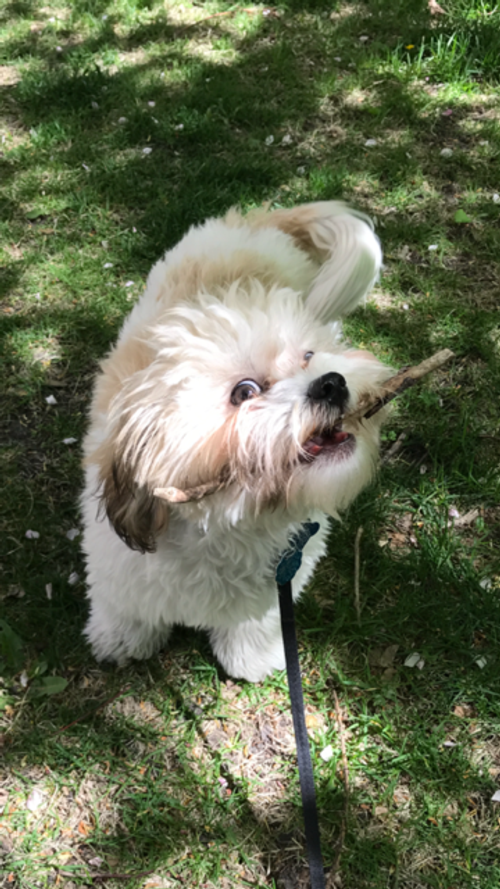 Dexter
Shih Tzu Bichon
Brian and Karen,
I bought a Bichon shih tzu puppy (dexter) from you in January. He is doing so great. I can't believe what a happy and friendly puppy he has become. It has only been 4 months, but he is already such a big part of my life. We are progressing well in obedience classes and he is starting doggy daycare next week. He is such a bubbly dog, albeit it one with a ton of energy. He loves everybody he meets and wouldn't hurt a fly. I just wanted to thank you for giving me such a good puppy, I couldn't be happier! Here is an updated picture of him. Dexter is also pretty active on Instagram (@yourboidexter).
Thanks for everything!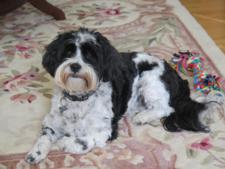 Charlie
Winter, 2013 - Chen, Mass
Our Charlie is 3 years old now. His is such a happy,health, sociable and loving dog. He is my buddy. He always bright up everyone's day. He bring so much joy to my whole family. Thank you so very much! Chen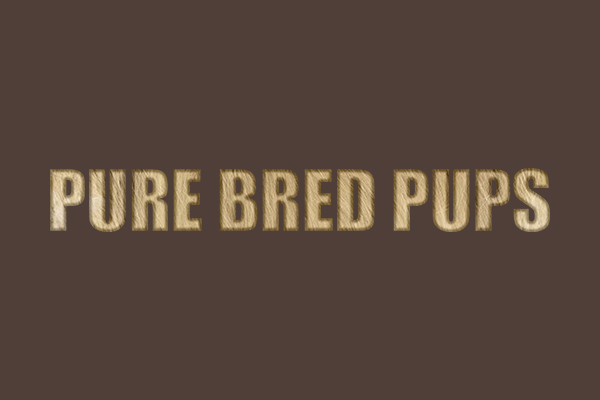 Tom and Brenda Bokman
Fall 2016 - Minnesota
We love our 2 new pups they are the joy of our family . They are always so happy and playful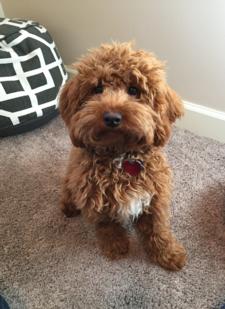 Ruby
Summer 2016 - Golden Valley, MN
Ruby was born April, 4/14/16. She is a cockapoo and just turned 1! She loves to sit on top of our couch and watch out the window to see other dogs and what is going on out in the world. She also loves to run around at dog parks and plays with all the larger dogs. For her size she can really hold her ground with them! Ruby has had no health problems and has been so much fun to have. We absolutely love her. She maxed out at about 15 pounds and has a very sweet, energetic, friendly personality. Thank you Pure Bred Pups for a wonderful dog, we treat her like a member of the family!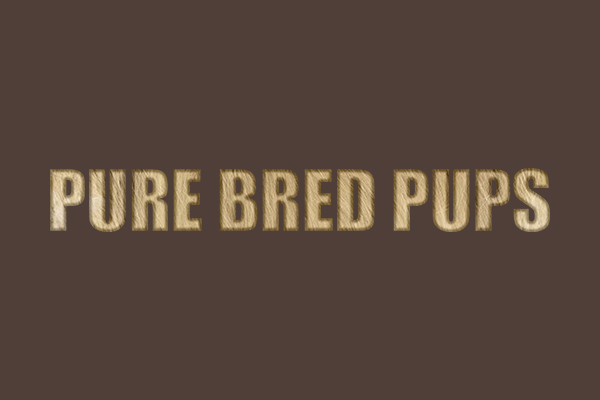 John
Winter 2017 - Boston, MA
This past Fall, my 18-year-old Lhasa-Bichon service dog died. There was a significant void in my life & home without him. In February, Cooper (a Lhasa-Bichon puppy), arrived from Purebred pups. He's been a total joy! He is a very healthy & sweet dog! Everyone who meets Cooper falls in love with him. While waiting for him to grow and wean from his mother, Karen was wonderful with sending me new pictures and a video! I feel very lucky to have Cooper in my life.
Rhiannon
Fall, 2016 - Whiting, IA
I just wanted to say that we absolutely love our cavachon puppy!! We got her in December, and from day one she has been fearless and lovable! She loves all people and all other animals. She plays with my children and other dogs and cats. She was so social when we got her, she fit in right away in our home. I could not be more pleased, and will come back if we ever decide to get another pup! And will definitely be recommending to friends and family!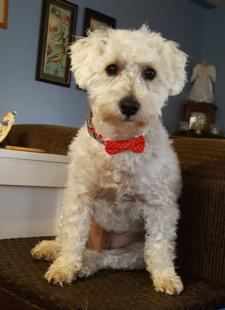 Melody Cole
Fall 2014 - Des Moines, Iowa
It has been over 2 years since we got our schnoodle Walter and we still can't believe how lucky we are. He is a perfect dog for us. He loves walks, adventures, and snuggles. He is a perfect companion . Thank you so much for a wonderful dog!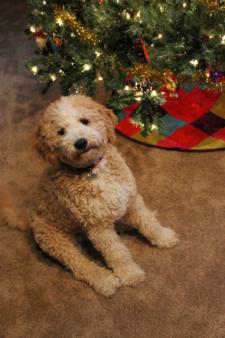 April Kelly
Spring 2016 - Omaha, NE
Let me introduce you to Rudy. We adopted him in April 2016. He is a Miniature Golden Doodle. He is a wonderful puppy and has been a tremendous blessing to our family. He was a holiday favorite and this picture captures his sweet disposition. Love him oodles! Thank you Purebred Pups. He is amazing!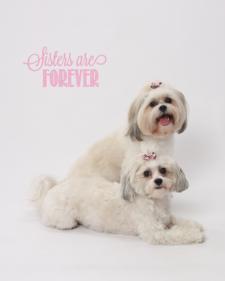 Debra E Leonard
March 2013 - West Palm Beach
Couldn't wait to get my 2nd pup to join her sister. March 2013 we got Lexi to become Zoe's playmate/sister. Another beauty. Very different personalities but they are the loves to all of us. Thank you Brian and Karen for my 2 four legged angels. They have grown so close over the past 3 1/2 years. Zoe just turned 7 (hard to believe) and Lexi is now 4. Thanks again !!!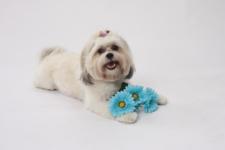 Debra Leonard
October 2009 - West Palm Beach, Florida
My first adult dog, Zoe Anabelle. I could not have wished for a better dog. Zoe is the most beautiful, well tempered dog. She has grown up to be an angel to all she meets. I thank Brian and Karen for their expertise in breeding and for the love their family gives to these pups when they are born and until they leave to go to their new homes. Zoe has brought so many smiles to all, I asked Brian in 2012 when he would be breeding the same mom and or dad. Jan 2013 Zoe's sister was born. Please see next testimonial for Lexi Rose.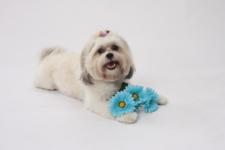 Debra Leonard
October 2009 - West Palm Beach
My first adult dog, Zoe Anabelle. I could not have wished for a better dog. Zoe is the most beautiful, well tempered dog. She has grown up to be an angel to all she meets. I thank Brian and Karen for their expertise in breeding and for the love their family gives to these pups when they are born and until they leave to go to their new homes. Zoe has brought so many smiles to all, I asked Brian in 2012 when he would be breeding the same mom and or dad. Jan 2013 Zoe's sister was born. Please see next testimonial for Lexi Rose.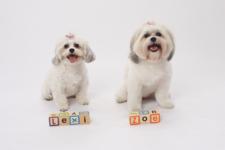 Debra Leonard
10/09 and 3/13 - West Palm beach
The best 4 legged children in the world..they are my life's loves. Zoe born 8/15/09 and Lexi 01/01/2013 half sisters and I could not have gotten 2 better animals.
Steve & Leslie Wight
Fall 2016 - New Market, MN
Brian & Karen, our family is so happy & in love with Rudy!!! He is such a playful & happy lil guy!! His little personality is absolutely priceless! He sleeps in our bed with us & most mornings he puts his head up by mine & does a very quiet little grawl as if to say,"please wake up".....that is then followed by a few gentle licks:) We could not ask for a happier or friendlier puppy! Little Rudy has brought a lot of joy to our family! The whole process starting with the first email I sent you guys through picking Rudy up was very pleasant! You guys are doing a great job & it shows in the quality of your puppies! Thank you for doing such a great job! Rudy loves his new family!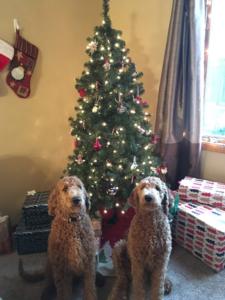 Lola and Phoebe
May 2016 - Iowa
We got our labradoodle puppy from you guys in July. She is a spunky and lovable dog. We get tons of compliments on how good she is for only being 8 months old. She was so easy to train and listens very well. A family member got her sister and she is just as good! They love having play dates every week. We continue to recommend people to you guys. Thank you for breeding such amazing dogs! -Leann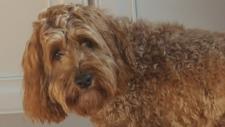 Kelly & Monte Allan
December 2014 - Parkersburg, Iowa
Two years ago today we brought our little furry bundle of energy home. We can't imagine not having our fur baby Jewel in our lives now.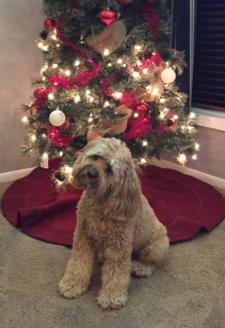 Millie
February 2012 - Storm Lake, IA
It has been almost 5 years since I got Millie and it has been the best time of my life and I couldn't picture my life with out her! She is such a happy, healthy, and loving dog and goes every where with me. Thank you for this joy!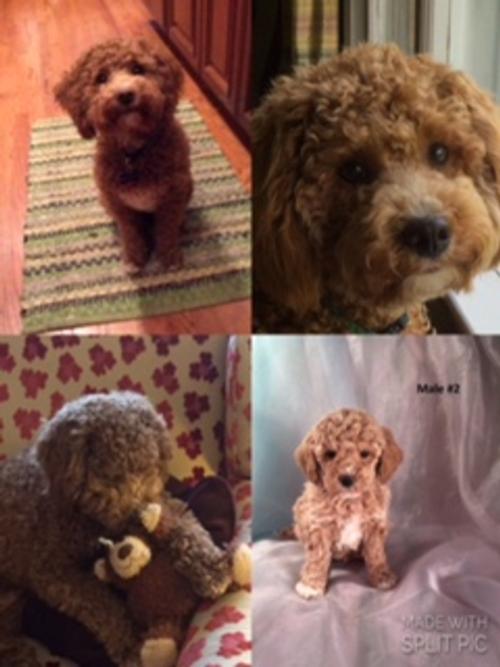 Elaine
Winter 2015 - Maryland
Hi Karen, Our little #2 is turning one year old next week. Benny is everything we could have wished for . He is just like you had described when I was choosing. He loves everyone and has a wonderful personality. Wanted to share Benny last December and Benny now Thank you. Hope you have had a good year. Elaine berman from Bethesda md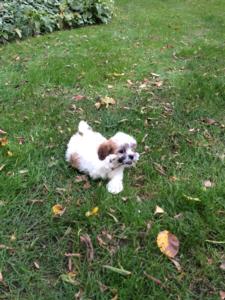 Susie Capps
Fall 2016 - Eden Prairie, MN
We love Zoey. She is a sweet and happy puppy. Zoey has enriched our family and we are so pleased to have her in our home. Her markings are gorgeous. No matter where we go she makes friends.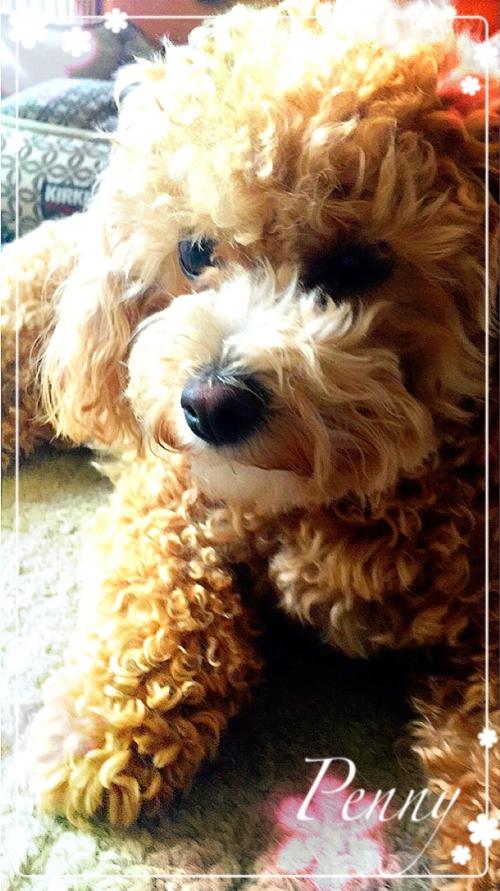 April Harvey
April 2015 - Ankeny, IA
April 17th 2015 our bichpoo penny was born. She has an 85 lb American Akita for a brother and they are what I call the dynamic duo. Penny has no fear and she will let u know how she feels. She's 100% tomboy girl! She loves to cuddle next to mama at morning time and has become the best lap dog ever! Did I mention she is quite the swimmer when we visit the lake and she's quite the hunter as well. She makes sure no mice are getting into our home. I never expected that. She is great with people and loves to get to know other dogs. Purebredpups.com was the best choice we made without question!
Jennifer Filarski
Fall 2015 - Redmond WA
We got our little Cavachon Puppy in October and he is such a great dog! Buckley is healthy and happy and has a great personality. He LOVES his people and is VERY social. He fit right in with our family and we couldn't image our home without him!!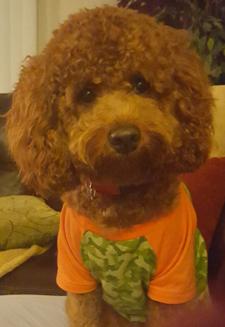 Mingo
Winter 2014 - Indianapolis, IN
In December 2014 we drove from Indianapolis Indiana to Iowa to get the love of our lives. Besides him begin the cutest dog ever, he's the most intelligent dog I've ever had. From playing to doing tricks there's never a dull moment in our home. Thank you so much for this addition to our family.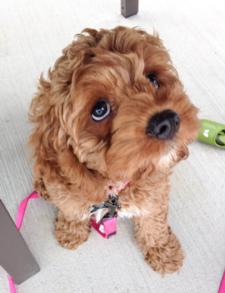 Carmella & Andrew Hanlon
Spring 2016 - Woodbury, MN
Nutmeg is happy and healthy and a truly wonderful companion and a beloved member of our family. At 6 months old she weighs 16 lbs. She is friendly to all people (adults and kids) and dogs of any kind. She is happy chasing shadows and munching on ice cubes in our apartment and knows the people at the office in our building. I believe her incredibly loving and docile personality is a true testament to the breeder. Thank you for giving us the best dog we could have ever asked for!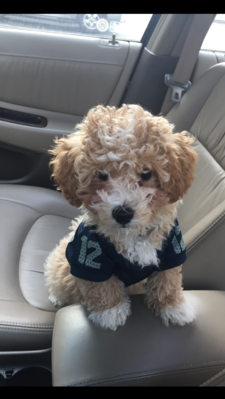 Hank
Winter 2015 - Seattle, WA
We couldn't be happier with our Poochon Cooper. We also have a 90 pound golden retriever and Cooper and him were immediate best buds... Since the first day we brought him home they have shared the same bed, toys, food, etc. My fiance actually didn't tell me she was getting us a 2nd dog but once I saw him and brought him home we knew he was a perfect fit. He's only about 10 pounds and I don't see him growing any more in the future. I never thought I'd like small dogs but Cooper isn't the typical small dog that is afraid of people and barks all the time. He might think he is a golden retriever but either way we wouldn't trade him for the world. He loves strangers and other dogs. Highly recommend a Poochon from this group.
Jake & Emily Feller
April 2016 - North Liberty, Iowa
Nala has been the perfect addition to our little family. She is better than any dog we imagined. She is such a lover and has such a fun personality. Nala makes everyone fall in love with her. She has been quick to learn routines and tricks. She greets people by sitting and raising a paw to say hi. Nala has been wonderful and we have reccomended you to several people who love Nala too! Thanks for the perfect puppy!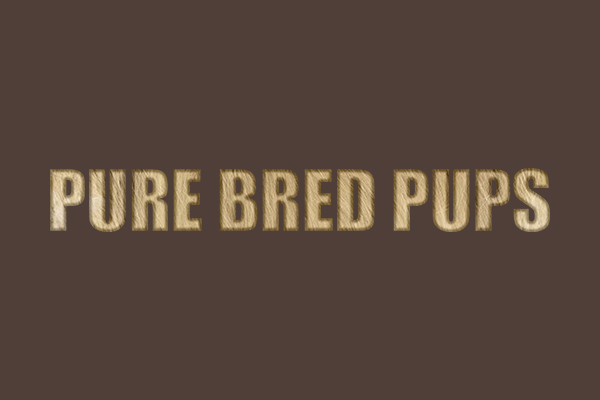 Candi
Hi! so sorry we haven"t been in contact to let you know how Daisy is doing!! she is currently 8 pounds of wiggles and kisses! We love her dearly and take her about everywhere we go. She just finished her puppy shots and is going in for her first "spa" day Thursday. We get asked a lot where we got her,so of course we gladly share your name! She is so CUTE and everyone loves her! She is so friendly,and our vet even said what a cute,happy ,healthy dog she is.Thanks for your good breeding and raising of our precious fur baby! She is everything we wanted! she is our perfect dog!! :) will send some pics soon!
Candi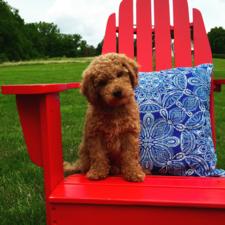 Luke Cooper
Summer 2015 - Fort Wayne, IN
Oliver is not only the cutest dog ever, but also the sweetest and most loving. Driving 8 hours to Iowa to get this sweet little boy was the best decision I've ever made. I've never seen a more calm and friendly dog; everyone who meets him immediately falls in love. Ollie is a part of the family and makes each day a little brighter. Thank you so much!!
Fozzie the Bichon/Poodle
Winter 2016 - Baton Rouge, LA
Fozzie was born December 26, 2015. We named named him Fozzie since he looks just like Fozzie Bear from the Muppets. He is a sweet and playful little puppy. He gets so excited when new visitors come over. Everyone adores him and he gets A LOT of attention. He also loves to play with other dogs in the neighborhood. Fozzie is a wonderful addition to our family. Thank you again!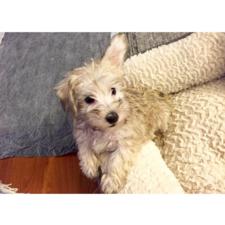 Lisa
Spring 2016 - Redwood City, CA
Thank you so much for bringing our schnoodle into our lives. It hasn't even been a full week since my boyfriend and I picked up our pup Yoda from the airport but he has fully taken over our hearts already. He is so loving, playful, and entertaining. He can fetch toys bigger than his little 8 week old body and gives the best puppy cuddles. Everyone who has met him has instantly fallen in love as well. From the original e-mail I sent inquiring about a schnoodle, to the most recent emails with final questions after we received our puppy, the process has been smooth and easy. I always received a response to my numerous e-mails within a day, but mostly within a couple hours. I have nothing but great things to say about purebred pups!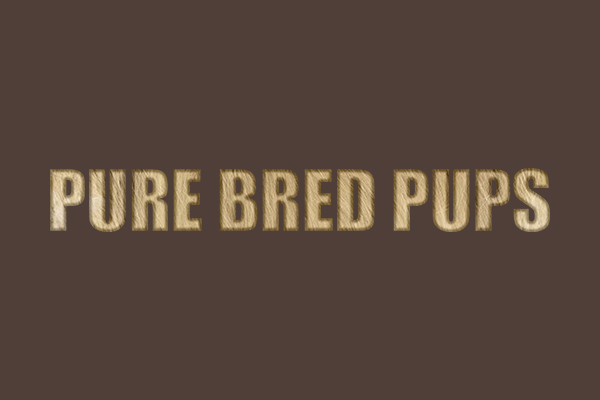 Jeff and Kristy
Summer 2015 -
I want to let you know that we have had such a good experience with our new Cockapoo puppy-Ruby! She has made a nice adjustment to our home, family and lifestyle! She is good-natured -and she's smart! I can tell that she had good experiences with children! She has been so good with our neighborhood children! She gets a lot of attention when we are out as she is so cute and friendly! Many thanks to your family for her early experiences! Kristy and Jeff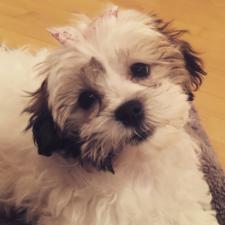 Sarah Hoffman
December 2015 - Waconia, MN
We adopted our sweet Hazel from you this past December. She has been a wonderful addition to our family. She is smart, sweet, playful and loves to cuddle!! She has not met a person or dog she doesn't love. She is extremely well socialized. We couldn't be happier about our decision to adopt from you!!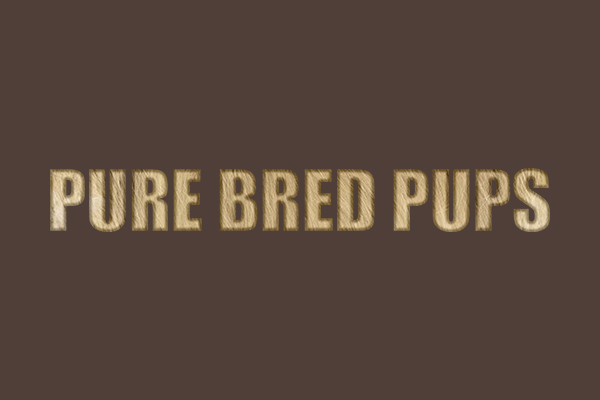 Cookie the Bichon/Lhasa
I love my Lhasa Bichon she was scared to come out but she chases you it is so cute I stayed home from school so I could be with her!!!!! I have named her Cookie, she looks like a Cookie and she likes that name too. Cookie watched TV with me this morning. She does not cry at night and she is THE CUTEST dog I have every seen. Cookie is up stairs with me right now watching me type. She loves too go out in the front yard and play with me. Cookie does not bite she licks I can tell she misses her Family. Thank you so much for her she is cute, sweet what more could you ask for she is the BEST dog ever!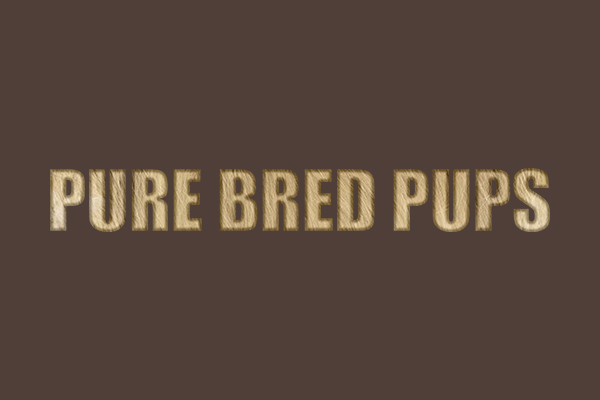 Bella the Shih Tzu/Bichon
We purchased our shit-zu bichon from you almost four years ago..she is the icon in our town now. Please visit our website to get an idea of how much Bella is LOVED! We are going to ad a link under Bella's favorites page which will direct them to your website. We hope in doing so, we will generate some business your way. We know of one person that has purchased a puppy (same breed) from you. I can never thank you enough for bringing Bella into my life. She is the best dog ever. It is because of her I started my business
- Maria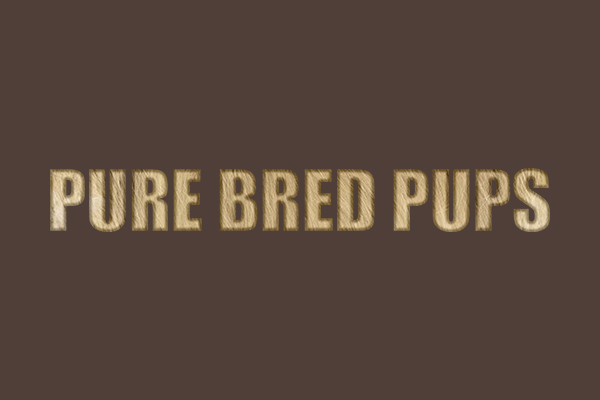 Maggie the Cockapoo
Maggie, the cockapoo puppy we purchased from you in September is absolutely a joy. She is housetrained already and is learning many new tricks. She already weighs 15 pounds at 4 months old. She has been great with the kids and she has become a wonderful new member of our family. Thank you.
- The Barkhaus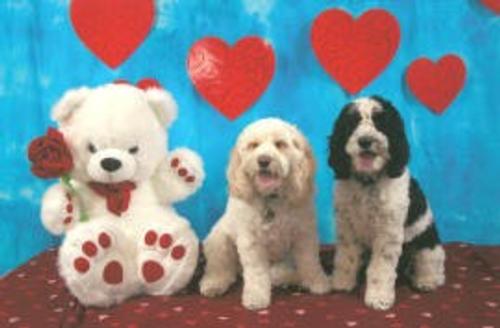 Katy and Annie the Cockapoos
It is hard to believe Katy is 10 months old already. The joy and laughter she has brought to our home is amazing. We love her with all our heart and enjoy her so much. She definitely has a mind of her own, and is an extremely smart dog. You should know that when we had her first check up after receiving her from you, the vet said she was in beautiful health and condition. This is a real compliment to you and how you raise your dogs. Making the decision to get two dogs was the best decision we ever made. Katy being the more serious of the two dogs is learning to be more playful like her sister Annie. Their personalities are very different but they continue to bond more and more as time goes by. I can not begin to describe the joy and happiness these two little girls have brought to our lives. My family has mentioned several times that my husband is a changed man because of these precious dogs.
- Nancy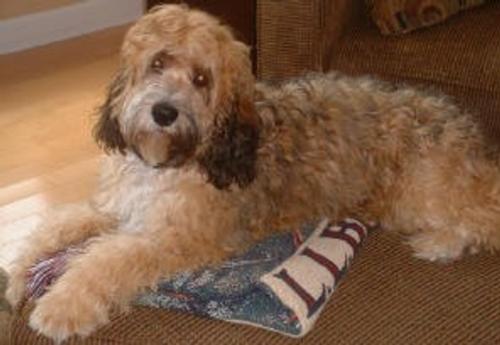 Joey the Cockapoo
Our 6 month old Cockapoo puppy Joey weighs 20 lbs. and is still growing!
- Gary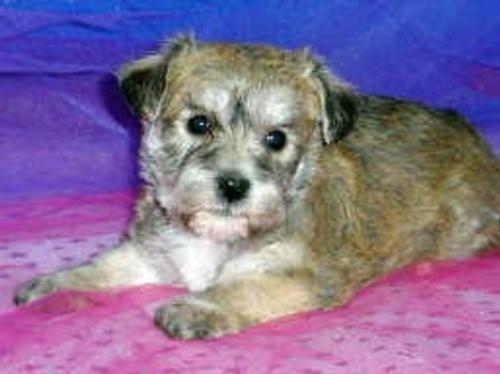 Mezzrow the Schnoodle
My boyfriend and I purchased a male Schnoodle from you in May. We named him Mezzrow and he has been such a wonderful pet. He is one of the smartest dogs we have ever seen. He is now 7 months old and we're running out of tricks to teach him! He can sit, stay, lay down, speak, roll over, beg, play dead, fetch, he knows his bed, spot, and kennel (and goes to them on command), and also goes to the bathroom when he is told. He has such a bright and perky personality. He is just a ball of fun. He has brought us a lot of joy and we are thinking about owning another so he has a friend...Our friends and family have been just as impressed with him as we have. Thanks again!
- Bridgette and Luke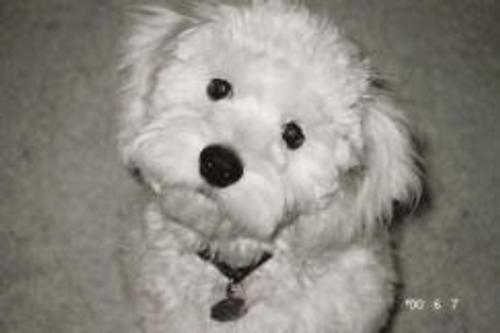 Heidi
I can't believe it has been 8 months since you sent our puppy to us in Idaho. We just wanted you to see her now. Her name is Heidi and she has the sweetest and happiest personality we could ask for. Our 7 year old son has the best time with her. They run and play ball, she goes with him everywhere. Heidi is such a joy and a wonderful addition to our family. From the day we got her she has been in excellent health and she is so smart. Brian, thank you so much for breeding such wonderful dogs. We couldn't be happier.
- Debbie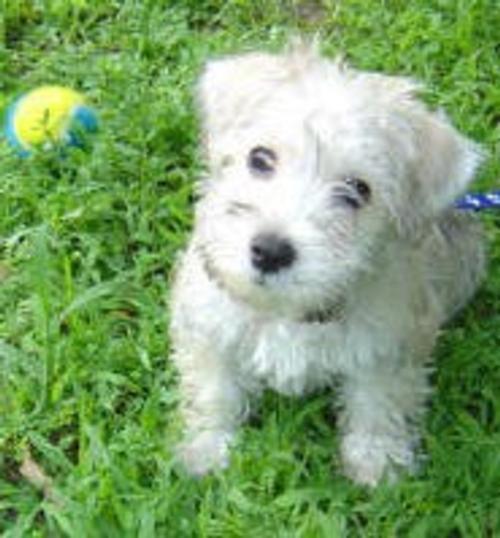 Biscuit
We purchased Biscuit from you in June and he has been a delight ever since! He is so smart and so cute no matter where we go everyone tells us just how darn cute he is, cutest puppy most people out this way have ever seen. He has brought such happiness to our lives and I don't know if I will ever be able to thank you enough for taking such good care of him as a puppy. It has been obvious that you treat all your dogs like they are members of your family~ he has no fears and has just been so happy the best temperament the dog trainer had ever seen in a small dog.
- Jennifer and Joseph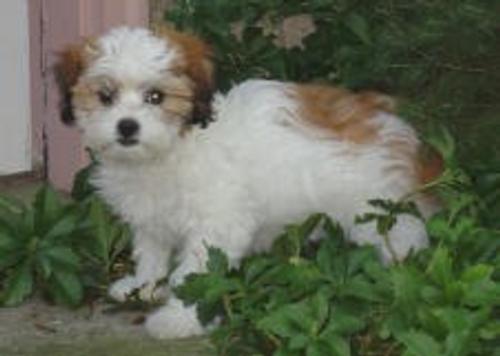 Emma the Bichon/Lhasa
I just wanted to tell you how much we love our little puppy Emma. She is truly precious and has been a wonderful addition to our family! We love her SO much! Thank you so much for breeding such a fantastic puppy! She is very healthy, loves to play, and has a fantastic personality!
- Vickie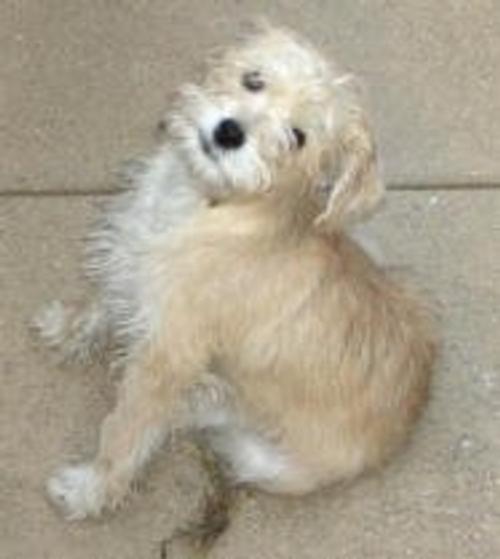 Adam's Schnoodle
I just wanted to let you know what a joy my new Schnoodle has been. After that harrowing travel day in August, he has clearly come to love NYC and the city has fallen in love with him. From the very first day, I was bombarded with people telling me he is THE cutest dog they have ever seen (including the vet!) I cannot walk 10 yards down the block without being stopped. It is not just his cute looks, he has developed a winning personality and loves everyone and everything. He has not demonstrated any persistent fear of anything. And that is a lot to say in the middle of Manhattan. My trainer was shocked to see him take jack hammers, city buses and especially skate boarders in stride. He LOVES the dog park and, at almost 5 months, plays with the big dogs as well as the puppies. We just started a puppy class and the instructor has recommend that he be a dog actor! I want to acknowledge you for breeding an amazing dog and I have already refereed a bunch of folks to you.
- Adam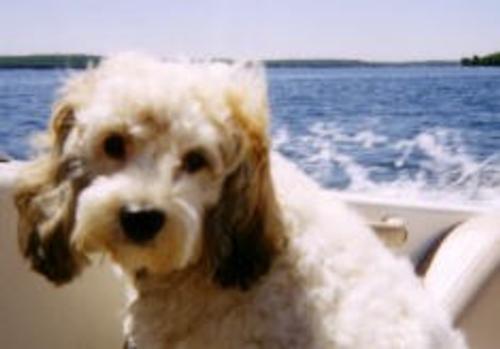 K.C. the Cockapoo
We got K.C. our Cockapoo from you just a couple days after the death of our first Cockapoo, who was a year old when she was hit by our neighbor's car. We never thought that we could find a better little dog than our first Cockapoo, but that was before we got K.C.!
K.C. is now 14 months old and has the biggest, most loving heart, packed into her 20 pound body than I thought possible. There is not a mean bone in her. She is exceptionally smart, not to mention one of the cutest dogs around. She is always happy and wants to please. Her tongue is a constant wash cloth to anyone who is within reach. Our daughter loves her and she is exceptional with children. We also have a protection trained, 100 lbs., 8 year old male German Shepherd and K.C. is his very best friend. One will never go anywhere without the other following closely behind. Everyone that sees them together laughs at such an odd, and opposite, looking pair of dogs being so bonded. Our entire family could never have asked for a better dog than K.C. We want to thank you for the little white puppy with two brown ears that we saw on the internet. You couldn't have bred a better dog. Our vet is so impressed by K.C. that she told me that she is now looking for a Cockapoo of her own. I'm going to give her your number!
- Mike, Joann and Lauren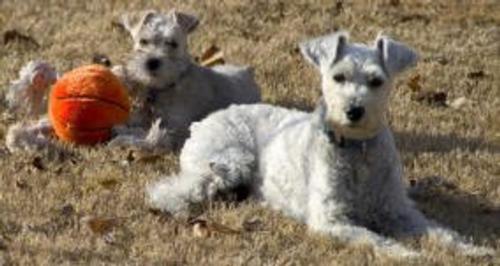 Enrico and Julie the Schnoodles
Around Thanksgiving of 2004, four pound Enrico Fermino came to live with us. Well, it's a great name for the little rascal although "Dickens" would have been appropriate, too. He has a wonderful personality and is very bright. I love it when he stands up and paddles with his two front paws. He has been an interesting companion for Tessie, our 12.5 year-old-Beagle. Sometimes, they seem like good buddies, especially when he follows her all around the yard just to see if anything new developed overnight or to sleep side-by-side in the sunshine. Other times, she appears to appreciate being away from him and makes a bee-line to the Living Room where she can sleep on her pillow knowing he will stay in the back of the house with me. One of our sons, Zak, is a graduate student in New York and thrilled to have Enrico's little step-sister living with him. Julie Cooper Nickel (from a T.V. show, "The O. C.") is exactly one year younger than Enrico and when they were home for two weeks at Christmas, the two Schnoodles were in hogs' heaven. JuJu (Julie) has the same demented passion when it comes to playing with tug-of-war toys. Thank you for two beloved additions to our families!
- Margaret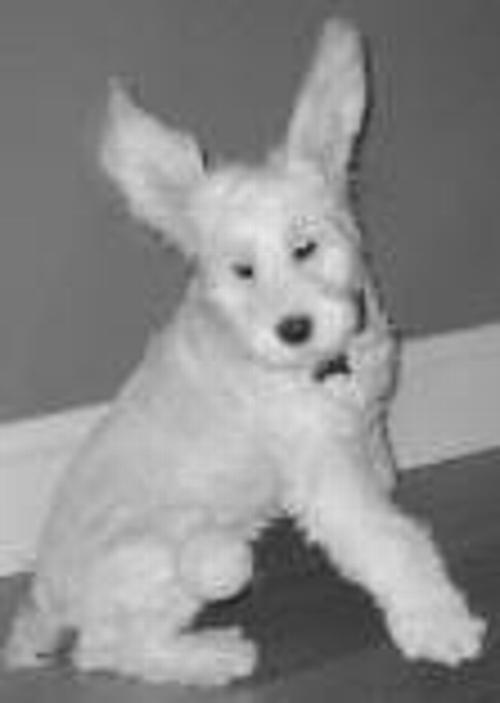 Happy the Cockapoo
My boyfriend and I received a Cockapoo from you in August of 05. We named him Happy and that name suits him perfectly since he brings happiness to all of us and he seems to be happy all the time too! He's extremely playful and cuddly as well. He was my first dog so I was afraid that it would be a challenge in the beginning, but I have found that having Happy in my life is one of the best feelings in the world!
-Chrisy and Irwin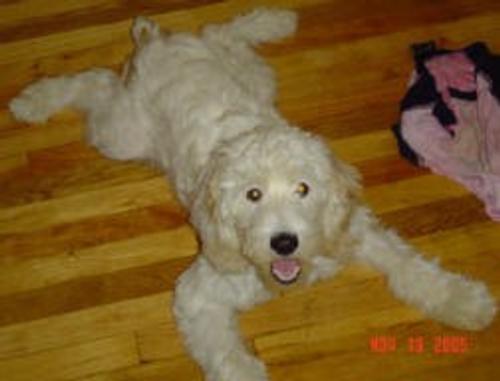 Casper the Cockapoo
Just wanted to thank you for breeding such loving Cockapoos. His name is Casper and he is currently 10 months and 24 lbs. Thanks again!
- Yocasta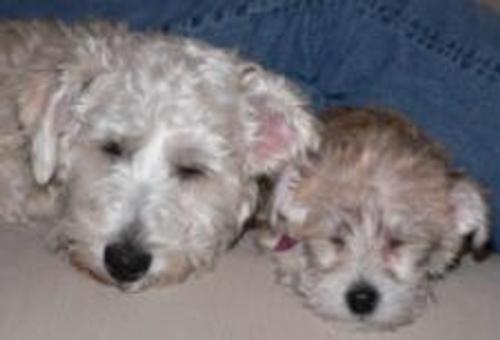 Emma and Oliver the Schnoodles
Our Schnoodles Emma and Oliver have been getting along together great and we couldn't be happier with them. Thank you for everything, and we are very excited for the giant Schnoodles to become available later this year.
- Cara and Patrick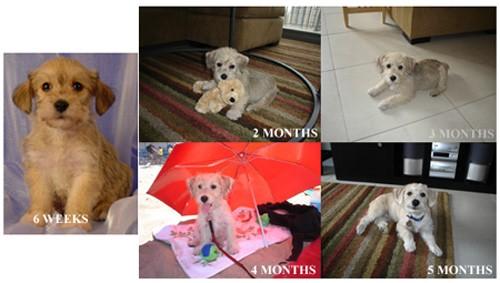 Chance the Schnoodle
We bought a Schnoodle puppy from you in May and just wanted to say thank you and let you know that he is doing great! We named him Chance and he has adapted perfectly to city life in Chicago. He's incredibly smart, plays great with other dogs, and is very friendly with people. We hope to find him a brother or sister in a few years and will definitely be contacting you then! Thanks again!
- Stephanie and John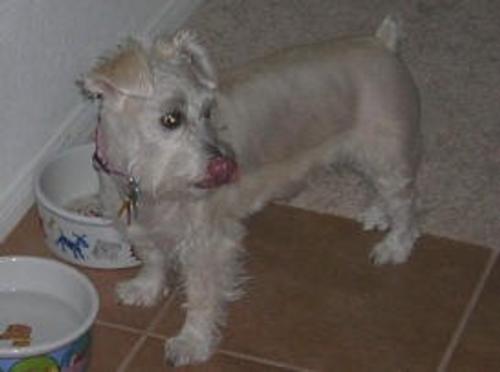 Autumn the Schnoodle
It has been about three years since we got our little miniature Schnoodle pup from you. I gave her to my husband as a Christmas present in 2003 and she stole our hearts immediately. She is so well bred and beautiful, we named her Autumn but we affectionately call her "Bug." I wanted to tell you what a wonderful addition she has been to our family. Not only are do we get tons of compliments about her, but she is one of the smartest dogs as well. It took very little to train her when she was a puppy and she is constantly surprising us with how smart she it. Anyone who purchases a puppy from you will know what a wonderful home you provide for them from birth until they arrived at their new homes. She has never been afraid of anyone and is wonderful with children. Plus as a bonus she loves my cats too, well chasing them that is. Thank you so much for giving her to us. We could not have asked for a better pup.
- Kelley and Spencer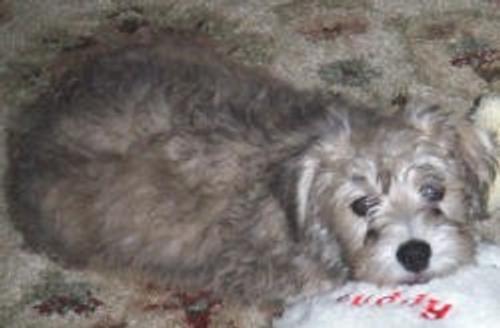 Lucky the Schnoodle
Lucky, the male Schnoodle that we received from you just over a week ago has been doing great! Best experience that I've had with a new puppy. He arrived on Thursday evening and I expected to be up all night listening to him cry in his crate next to my bed. To my surprise he settled right down and slept all night!! My husband and I were both shocked and thought that maybe he was just being quite because he was in a new place. Not the case! He loves his crate and sleeps ALL night without needing to go out! He has a larger crate downstairs that he stays in while we are at work and has not had any accidents in it. This says a lot to me about how you have raised this sweet little guy. It tells me that you are a breeder that takes pride in your pups and goes the extra step to ensure that they are acclimated correctly! Thank you so much! Thanks so much for such a great pup! I will refer anyone interested in purchasing a pup right to you!
- Laura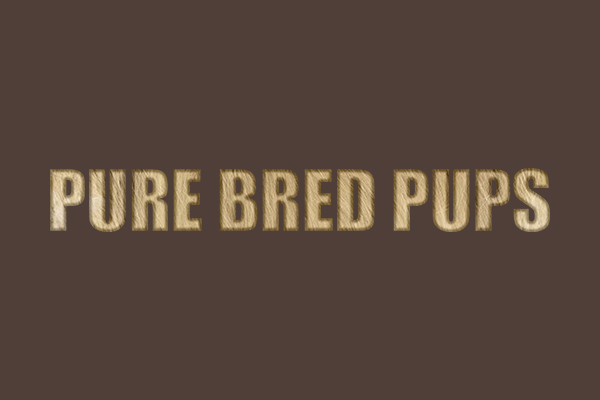 Scoozi the Schnoodle
We got our female Schnoodle puppy from you (named Scoozi) on September 15, 2005. She has grown up into an adorable dog who loves people, playing catch, and all sorts of athletic activity. She was easy to train and is such a joy to have around the house. She is an extremely smart dog and we all fell in love with her immediately. Thank you so much for our new family member
- The Foxes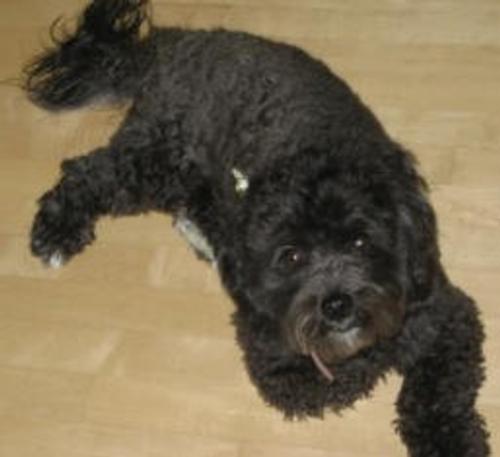 Coco
We just wanted to tell you how great Coco is! Even with the constant motion in our house with 3 kids and all their friends, she keeps her cool. At night she likes to sleep on our pillows and is really snuggly. We really enjoyed working with you and felt the whole transition was really relaxed and enjoyable. Thanks again.
- Liz and Michael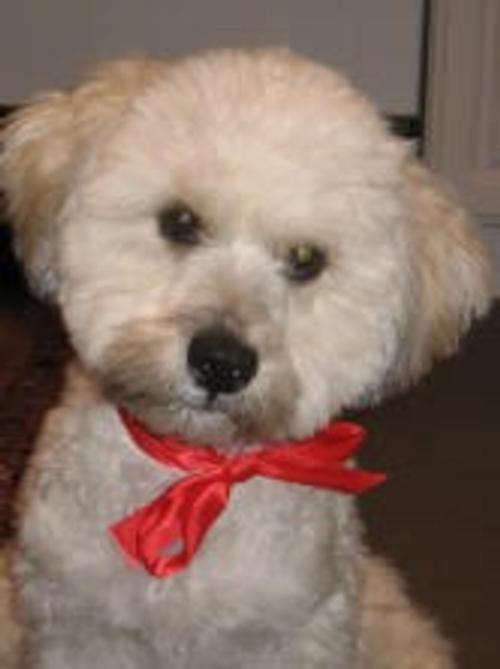 Tuckit
Tuckit, out dog, continues to be our lovable and playful dog as we enter the new year. He's also a very intelligent dog, and always is curious! We often play hide & go seek with him, and he checks in all the places that you've hidden previously. He has a very good memory for those kind of games. One thing we've enjoyed about Tuckit from the start is he is not a yappy dog. He will bark, yes, if some one is at the door, but he isn't constantly barking and waking up the neighborhood. He's also very friendly with other dogs and always is up for a game of catch. He always brings the ball back, too!
-The Childs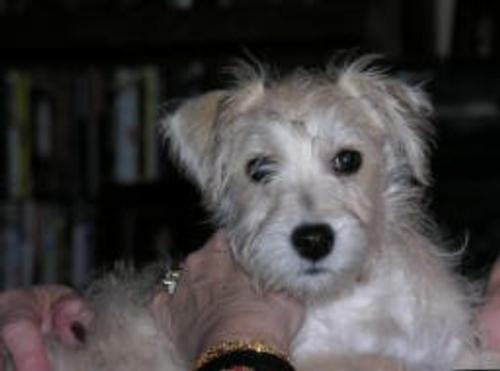 Lily Rose
Thank you for sending me to my new home. I love it and my new people too! I had a wonderful Christmas, met a lot of people, and got a lot of toys. Everyone says I am very sweet and affectionate. I have a huge yard. One acre all fenced in. But my daddy doesn't let me go out alone day or night he is always with me. He has taught me to come when called he says that is very important and always tells me I am a good girl when I do. I play a lot and when I get tired I sleep on my daddy. He likes that.
- Lily Rose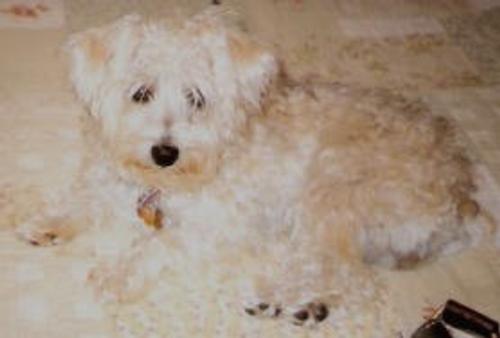 Tabitha the Schnoodle
We adopted a Schnoodle back in June of '06 after a long 8 years of trying to talk my husband into a dog, you see his mother raised dogs all his life and he was just burnt out on them, so my two kids and I drove 3 hours to pick up our little Tabitha, we fell in love with her the moment she came bounding around the corner of your dining room, I was very impressed with how clean your home was, so we drove back home really worried about the outcome with Dad. after a few mumbles and grumbles and two hours later we found them, dad and Tabitha curled up on the living room floor sound asleep... yep, she was in!! Now he tells everyone how smart she is and that it is hard to come by a good dog but we got lucky...he does mention it has a lot to do with the breeder also, the first night she made one whimper and settled down after that and we never had a problem with her crying at night. that was my biggest fear of a new puppy. Well 6 months later dad decided it was time for her to be with us at night, so now she is in our bed and sleeps through the night. her kennel has been packed away and she is left out when we are gone and has never had an accident. That's pretty good for a 11 month old puppy. we think she is to worried about where her people went to think of anything else, as for her hair do, well, we love her as a teddy bear Schnoodle, everyone gets made when I mention having her trimmed. she has completed a part of our family we didn't know was missing, we all love her so much, she is all personality, never chews on anything but her toys, twangs the door stop on the door when she needs to go out, potty trained within 2 weeks, gets along with the two cats great, i also do daycare and she just thinks she is another kid in the group, she swims in the pool with them in the summer and runs like the wind through the snow in the winter, Grandpa and Grandma think she is another grandkid and ask for her if we are going somewhere for the day," so she doesn't have to stay home alone" I would highly recommend your puppies to anyone, thanks so much for our baby girl.
- The Lees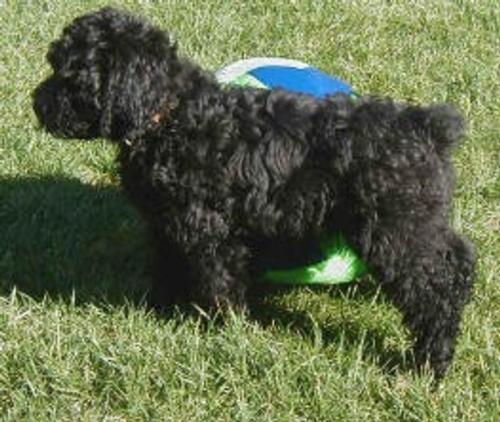 Shadow the Schnoodle
Thank You for our wonderful Shadow!!! He was one of your Giant Schnoodle pups born on 01-01-2007. He arrived in San Jose, California late February and it was love at first sight! He is the most wonderful dog and we want to thank you for bringing such a wonderful animal to us. He was house broken within a few days and has learned SIT, DOWN, STAY, and LEAVE IT. He is an outside family dog as we are lucky enough to have a large backyard. I have heard many horror stories about puppies destroying backyards...I am pleased to say that he has chosen one bush as his favorite to sit in and hide bones and unstuffed only one lawn chair cushion in 5 months. He comes in several times a day to hang out with the kids in the family room and kitchen and sleeps in our laundry room at night. He loves people and has a friend down the street "Klaire" who is a 14 lb Patterdale Terrier who is his best buddy. Shadow is our vet's first Giant Schnoodle and she is eagerly awaiting to see how large he gets. He just celebrated 5 months yesterday and weighs in at 45 pounds. The vet was very impressed with your immunization records - she noted that some breeders give these much too early - she said you did a great job!!! Thanks again from the bottom of our hearts for adding such a wonderful addition to our family.
- Colleen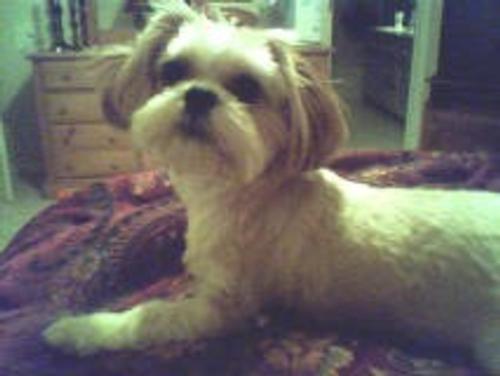 Sophie the Shih Tzu
Sophie, my female Shih Tzu is the love of my life! She is beautiful and the sweetest thing!
- Connie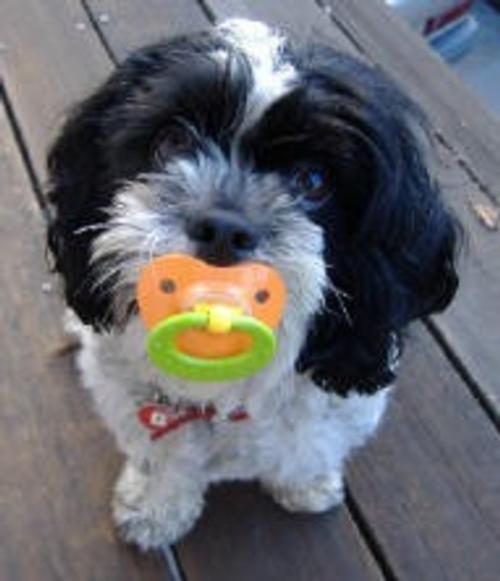 Bella the Shichon
We purchased our Shih-Tzu Bichon from you almost 2 years ago. She was everything that you said she would be. She is my first dog, and I love her so very much. We walk around town, and everyone knows Bella...even people I don't know. She's very popular. Everyone loves her calm demeanor and how friendly she is. Thank You for the best dog ever.
- Maria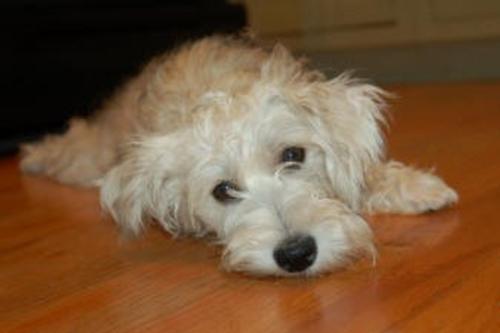 Millie the Schnoodle
We love the schnoodle puppy you selected for us in April. We've named her Millie and she is a wonderful addition to our family.
hank you for listening to my thoughts about puppy adoption and choosing Millie from your litter. She is every bit as calm and sweet as you described! She is not the puppy I would have selected if I had picked from the photos alone but she is exactly the dog we'd hoped for. Your advice was perfect, you must really know your dogs. Millie is playful, friendly, eager to please and very content all the time. She is also adorable. Her coat is something to see!
- Beth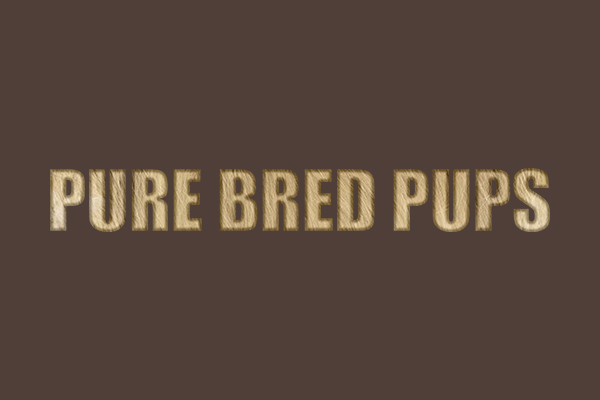 Penny the Schnoodle
Words cannot express what a joy our Schnoodle puppy is. She is an adorable size (15 lbs. ) and her disposition is such a happy one. I view your site frequently and someday will possibly be back for another. At this time, we have 3 dogs so that is a handful, and cannot think of adding another. However, if I do get another dog it certainly will be a Schnoodle from you. I have seen other Schnoodles, but truly I do think yours are the cutest. I would highly recommend your Schnoodles to anyone wanting a cute, well behaved, loving lap dog. Also, I will point out that when we bought Penny, our Schnoodle, we viewed several, and yours looked the healthiest and cutest.
- Linda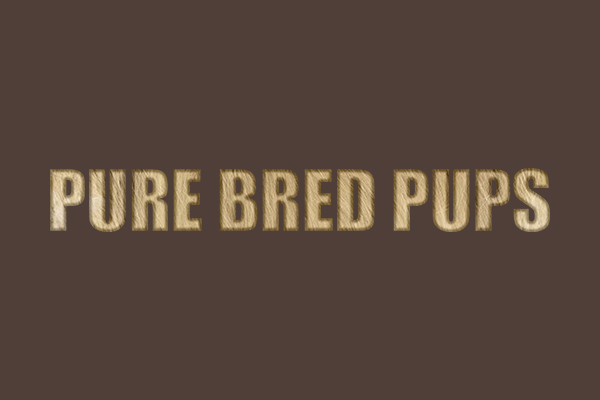 Dax the Cockapoo
Dax our Black & White Male Cockapoo, is four months old and weighs 16 pounds. He is very friendly with everyone he meets - especially children, so he has made a great playmate for my 9 year old son Domenick. Dax gets stopped quite often during walks or outings because people just can't help but tell us how beautiful he is. He gets many compliments on his soft coat and playful, loving personality. Dax is also quite intelligent, so he learns very quickly and is eager to please. He has made a great addition to our family and has everyone he meets wrapped around his little paw. Thank you for a great puppy!
- Dawn, Domenick and Dax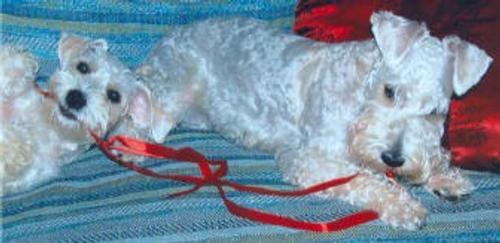 Bruiser and Bixby the Schnoodles
I purchased one Schnoodle from you about a year and a half ago, and I then ordered another Schnoodle from you about 3 months later. The dogs I purchased from you are wonderful. They have the best temperaments and are just loving life. These dogs are so smart and are a joy every day. So, I am very glad that I bought two of them. I want to thank you for the care you provided during the initial purchase and shipment phase. Certainly, I was very concerned about ordering dogs online, but you were true to your word. I have attached a picture of Bruiser and Bixby helping me unwrap Christmas presents.
- Kevin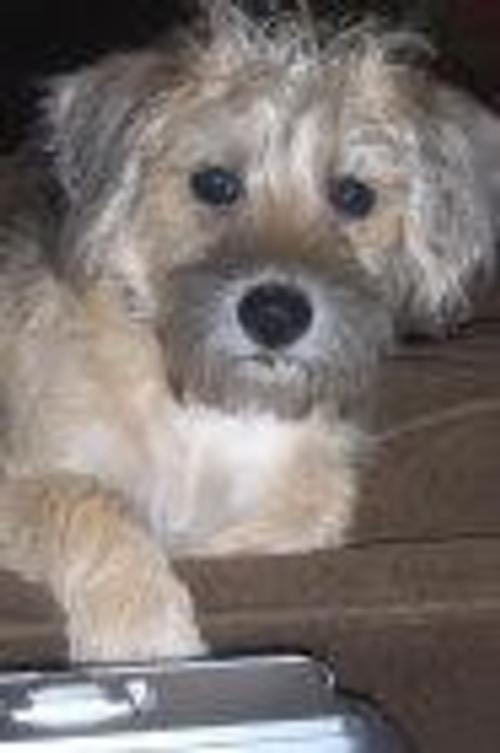 Kramer
Thank you so much for Kramer. We picked him up at your place in late February and what a joy he is! He entertains everyone and everyone seems to love him and his personality. He has modeled once for Better Homes & Gardens already. I give your website to all who ask about him...you do a great job! Thanks again.
- The Shipleys
Camy the Schnoodle
We bought our little schnoodle "Camy" from you on 7/14/09, she is such a great dog! She was housebroken by the end of the week that she came home. The vet even says she is one in a million - from her demeanor to her intelligence! She has been a great addition to our family and we just want to let you know she is a gem!
- The Wakefields
Buddy the Schnoodle
Buddy is 9 months old now! He broke his leg just before Christmas but he's good as new again. He's very gentle and sweet and he's a wonderful lap dog. We're crazy about him!
- Sal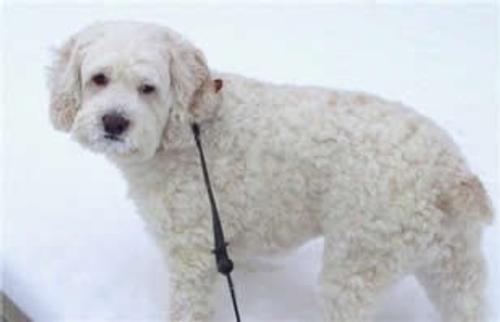 Buddy the Cockapoo
We got a white male Cockapoo from you. He was born 6/5/2004.I believe he was sent out a few days earlier because you were going to have your wisdom teeth out and I didn't want to wait any longer. What a surprise we had waiting for us!!! He was absolutely beautiful! Well, Buddy just turned 5 years old last month and he has been the healthiest, lovable and happiest dog. This was the 1st dog for me and my husband so the first few months were a little bit challenging until we found a wonderful trainer for him and us! It was such a great experience we had with you. I realize how lucky I was in finding you. I did a lot of research into finding the right dog for me. I knew I wanted a white Cockapoo and when I found your site I was thrilled! He loves the snow. He could stay out there for hours! He is 39.9 lbs. He is a little bigger that most of the cockapoo's that we have seen but his vet does not worry about his weight. She said he is perfectly fine and healthy and that is all that matters. Thank you again for the great service and we are very pleased with the experience.
- Sue and Manny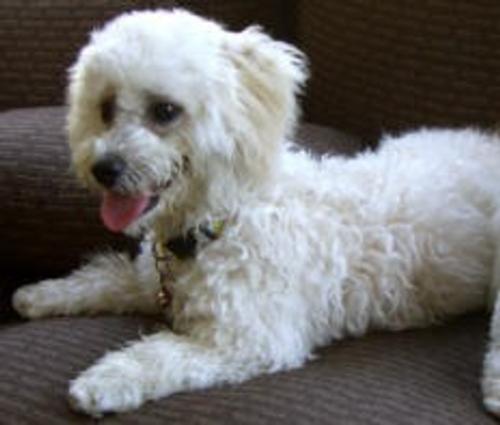 Judie's Dog
She has grown up into a fine healthy, loving special pet. We love her so much. She is so smart and learns all kinds of tricks quickly. Thank you so much for such a special balanced dog. She loves to go to work with me, play in the Colorado snow and pose for pictures. My only complaint is that she has grown up too fast.
- Judie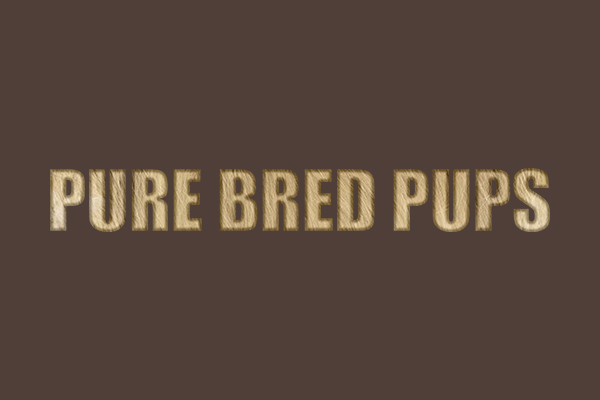 Ruby the Cockapoo
We have had such a good experience with our new Cockapoo puppy Ruby! She has made a nice adjustment to our home, family and lifestyle! She is good-natured and she's smart! I can tell that she had good experiences with children! She has been so good with our neighborhood children! She gets a lot of attention when we are out as she is so cute and friendly! Many thanks to your family for her early experiences!
- Kristy and Jeff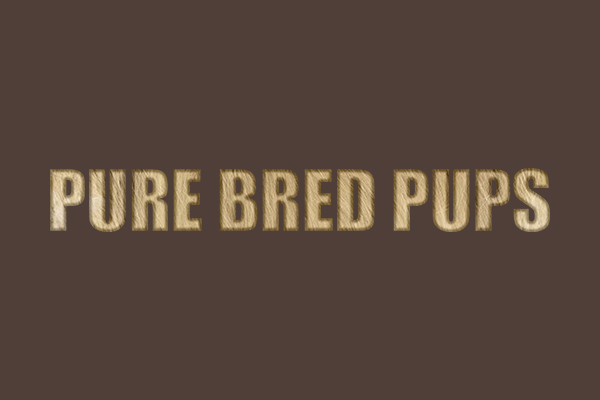 Chico the Cockapoo
It has been a year today since we picked young Chico up at the Delta Cargo hold area in Austin. He is a terrific pet & companion. He's a favorite in the hood on our daily walks. He might even be Mayor in a more progressive setting! That balance of poodle and cocker serves us both well. Muchas gracias!
- Tex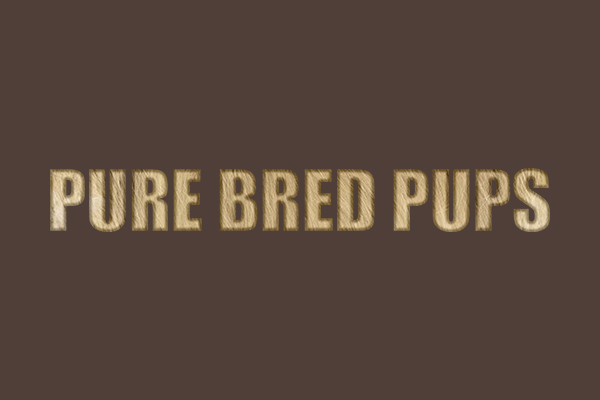 Sadie
Thought I'd share a picture of our sweet Sadie Girl with you. As you can see she loves her stuffies! She is the sweetest puppy I've ever had and such a little cuddle bug. We started her training classes last month and the trainer is so impressed with how well natured and smart she is. You only have to show her what you want and she'll continue to do it on command. She is definitely a pleaser and a wonderful addition to our family. Thank you!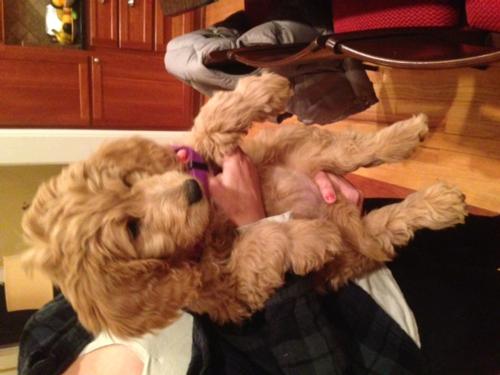 Lola
Thanks again. We are so happy with her delightful spirit.
- Christiane and Emma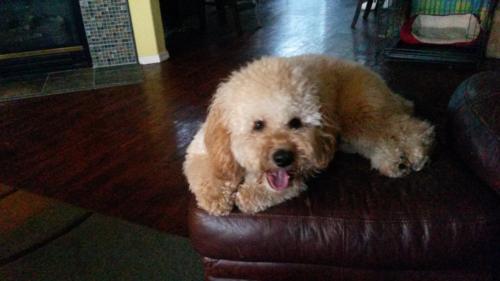 Rufus
I can't believe that Rufus is a year old already. Time really flies. He is such a wonderful, loving, funny, happy little dog and i love him so much. He is so smart and has been to puppy school and puppy trick school. I couldn't ask for a better dog.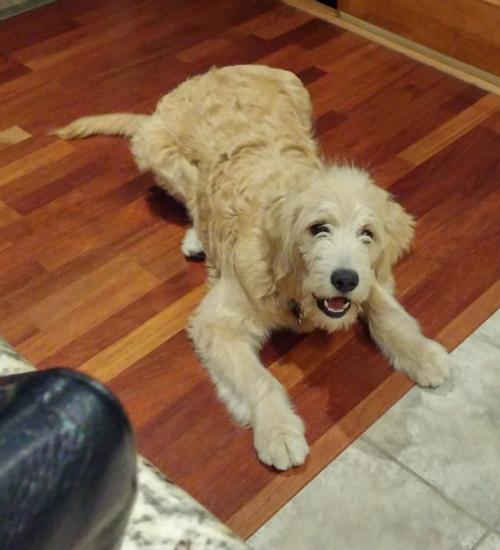 Harley
Harley is our purebred baby. From holding jim in our two arms to 65 pounds of loving fur in 8 months. You and your family breed wonderful loving puppies. Thank you very much.
- Randy and Kathy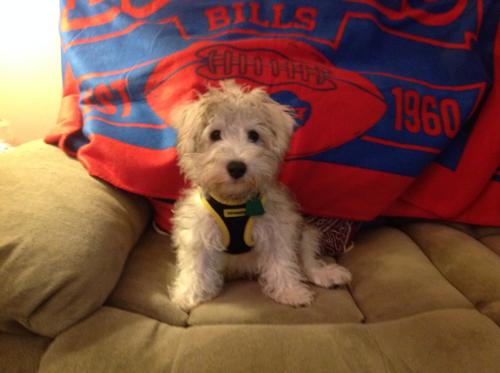 Eddie
Eddie loves his home in Florida and we are very happy too. He weights 8.4lbs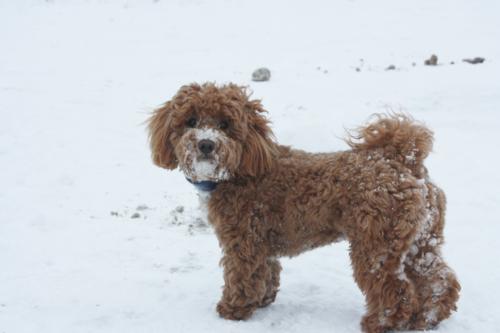 Meka Rose
I cannot resist sending some updated pictures of Meka Rose. She provides a daily abundance of enthusiasm and love and makes us laugh every day! As she grew her personality developed into a spunky well behaved little girl. Like any of your dog loving clients, we love our puppy! She still has an occasional accident in the house but has made great progress in that department as well. She so enjoys being outside that play is on her mind and nothing else! What little 14 pound dog asks to go out and has to be called in when it is 30 degrees below? She obviously does not have a thermostat! As you can tell, we adore her and so does everyone else who meets this cute little bundle of fur!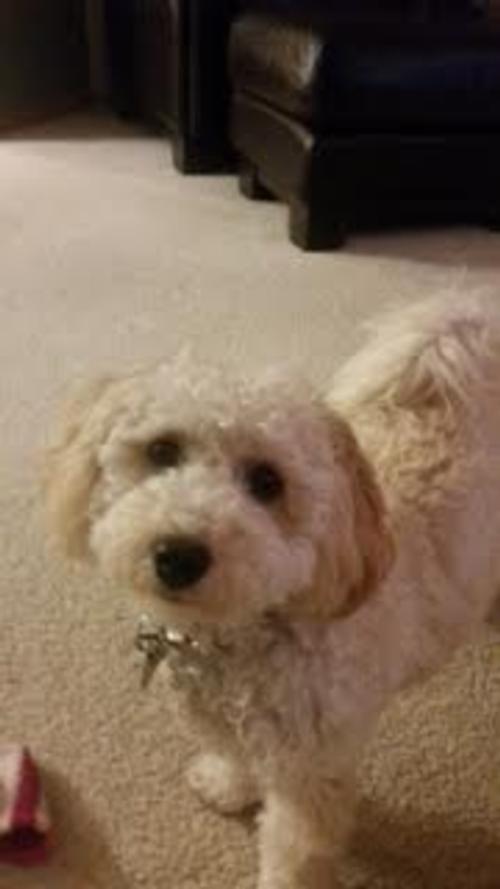 Bella
We are loving our little Bella! I can't believe she is one already! Abbie sure has has enjoyed her! Made me think of you guys as Abbie's birthday is tomorrow! Don't think I'll be able to beat last years surprise of Bella!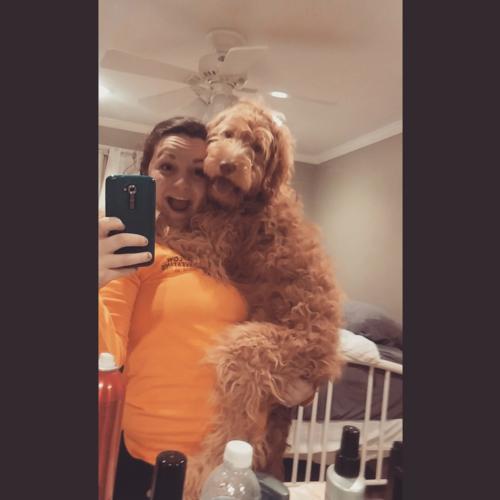 Finley the Goldendoodle
Thank you so much for giving us the perfect goldendoodle puppy. She came from your surprise litter last July. After hearing so many people put me down on decided to purchase from a breeder I am estactic that you proved them wrong. I am absolutely in love with Finley. She is not quite a year old and is so smart she impresses me everyday. She is the queen of stealing things when you are not looking, she is a big snuggle bug, and for the most part listens very well. She took her first trip to the dog park where we will be living for college next year and she had a blast playing with all of the other dogs. She is truly a part of our family and words can not express how thankful we are. Needless to say, when the time comes to add another pooch to the family we will most definitely be in touch.
- Shelby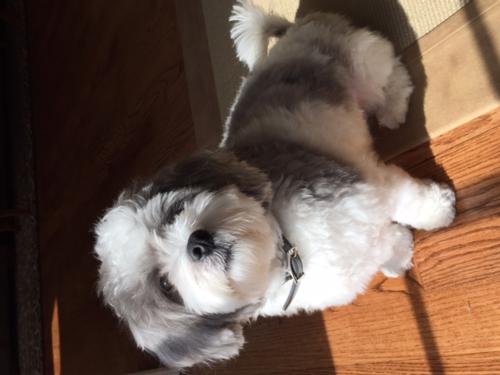 Murphy the Shichon
Murphy is now over 2 years old, and he was a silver shichon so you were curious how he would look over time- he has definitely lightened up in color but he is still so fluffy and cute! People are amazed at how soft he is. We heard about adult fur being different, but we don't detect much difference. Such a sweet dog- well tempered, super friendly, always happy- but a licker for sure. Thank you for being such a great breeder!
- Yvonne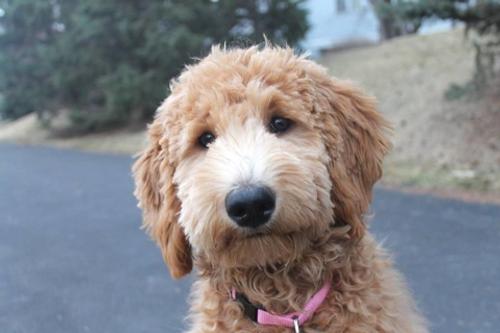 Lola the Goldendoodle
Lola, our Goldendoodle is doing fantastic!!! She is 7 months old now, full of life and brings so much happiness to us. She has made our new house a home. We love her so much. Thanks again!
- Danielle and Eric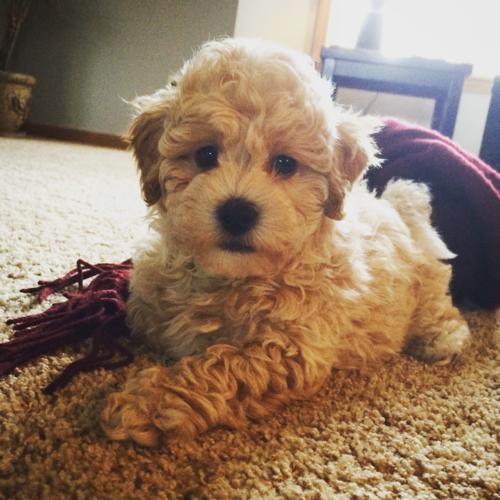 Maple
My husband and I would just like to thank you again for our wonderful puppy, Maple. He is so loving, playful and smart. We could not be more pleased with our choice in both pup and breeder. Every where we go we hear how cute he is and we could not agree more. Thank you again for a happy and heathy pup.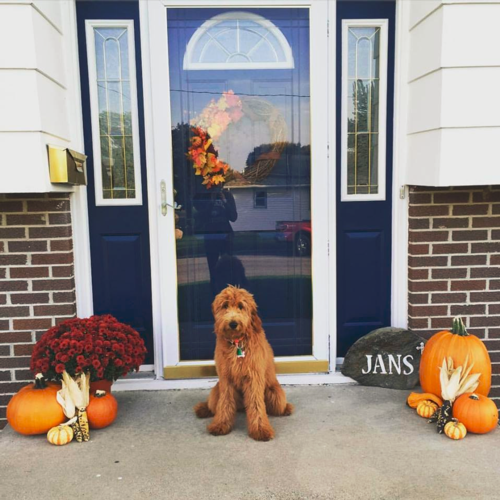 Charlee the Goldendoodle
Charlee is SUCH a good dog and we love her so much! She is already potty trained (for the most part) and has slept through the night in her kennel since the 3rd day that we had her! She is very cuddly and playful and is very popular in our neighborhood. So many people comment on how cute she is and how friendly she is. We have referred several people to you when they ask. Thanks for your great service.
- Kelly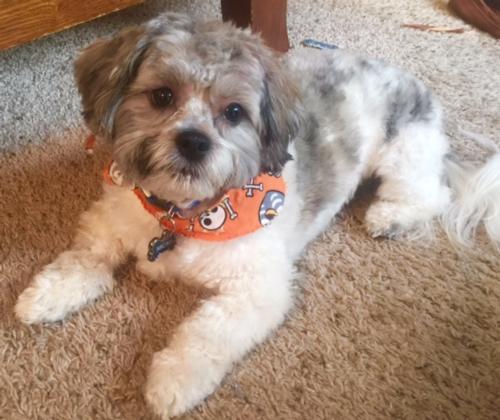 Micah
Micah was born one year ago today. We adopted him from you in Decemeber and we love him! He has a playful disposition and is a happy dog, there is no mean behavior within him. Our whole family loves him and with having an only child; our hope was to get a companion for our son. He follows our son around and they are good buddies. Thank you for breeding such awesome dogs.
- Teri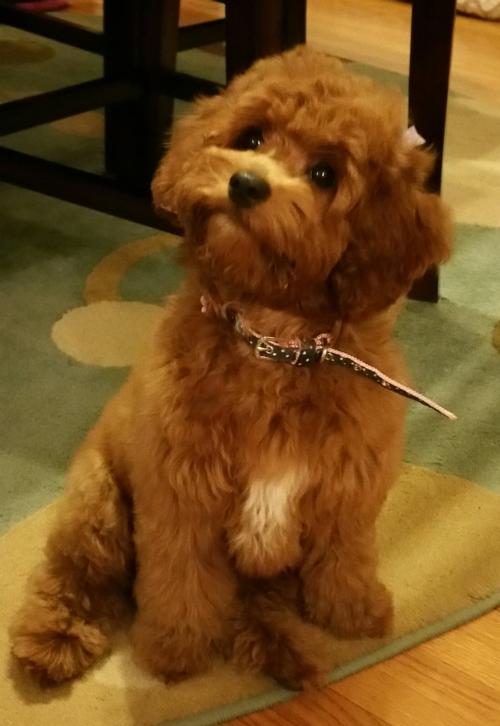 Ellie
I am so IN-LOVE with this little girl! She is doing very well. Today she got her 1st puppy trim and tomorrow is her second obedience training class. I just wanted to share with you how beautiful she is, how loved she is, and how well she is doing. Thank you for our little one.
- Jackie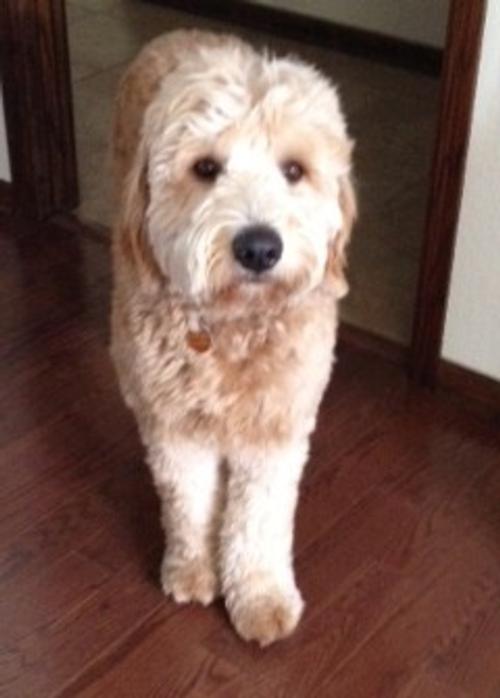 Shiloh
I am long overdue on telling you how awesome our Shilo turned out to be. He has an amazing temperament, wonderful with ALL people big and small, young and old. In fact, he has been trained as a therapy dog. At only 2 years old, he has been visiting nursing homes and hospice patients now for over a year. He will soon be at the MSP International Airport visiting and calming travelers. I have and will continue to recommend you as a breeder. I receive nothing but compliments on Shiloh. He is the best dog I have ever owned. He is a soul mate, very obedient and perfectly mannered. I trained him, but he was a breeze to train. He is very intelligent and wants to please. I never had to continually repeat commands or work on anything more than a few times before he was absolutely proficient. Shiloh is great with my granddaughter and allows her to use him as a pillow. He sleeps by her bed during naps. We live on a lake and he always makes sure that he is between her and the water. You would be proud of this boy! He is very handsome as you can see and very athletic. He doesn't like to swim but he does like to run and fetch. He has the most gentle mouth ever. He takes treats gently and releases his ball gently. Everyone who meets him is amazed at his personality and temperament. I have yet to meet a dog owner that is not jealous! They tell me all the time that their dog "is no Shiloh"! Thank you to you and your family for taking care in breeding and raising my boy! Sincerely thankful!
- Patti
Ginger
Our bichon poodle mix was born 5/6/15. She is just an absolute doll. She loves everybody and everybody loves her. Every dog in the neighborhood is her best friend. Her color is absolutely gorgeous. I have taught her many tricks--she is very smart. We had to stop taking her to the Des Moines farmers market, because so many people would stop us to ask a dozen questions and to just pet her.
She ended up at 15 pounds.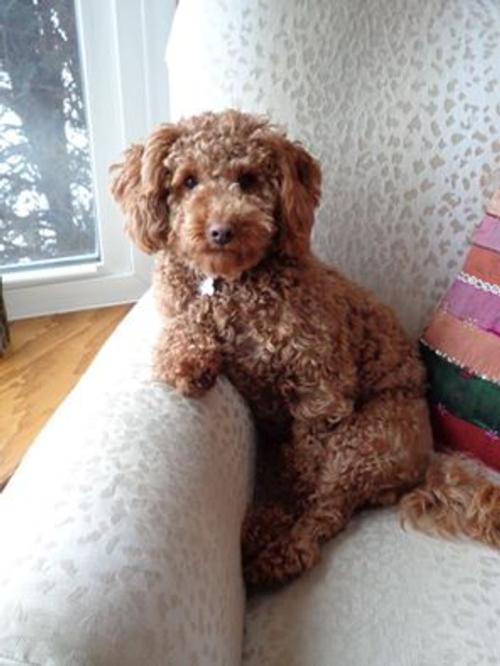 Karma
Karma loves having one paw on the armrest and watches all the people and dogs walk by on the sidewalk. She is the love of our life!! She has become a community dog and everyone is starting to know her. She may even be getting a volunteer job once per month at one of the local Senior centers with the kids. She is great at loving people! Thank you again! We couldn't be happier!
---
Send Us A Comment
To our past clients: We appreciate your comments and if you would, fill out the form with comments and a photo about your experience at Purebred Pups. Fields marked with * are required. Please enter the Name field how you want your name to read on our website (Examples: John Doe, J. Doe, John D., John Doe Corporation).