Snorkie
Want a cute dog that is playful, active, and willing to live in smaller indoor area? One of the best puppies for sale here on Purebred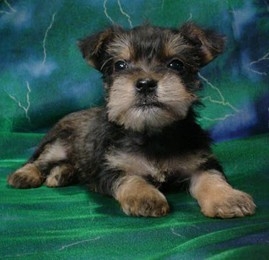 Pups, which is a picture of just that, is the Snorkie. This puppy will give back all the love you put into it. It can lighten up a room with its eyes and show off its unique personality.
The Snorkie is cute, so what else sets it apart from other puppies? It's a designer mix which is becoming more and more popular, mainly because of its parents and its looks. This puppy for sale has a purebred yorkie (Yorkshire Terrier) as a father, and a purebred miniature schnauzer as a mother. It's not hard to see where the Snorkie get its personality: the yorkie is known for having a unique, pleasant nature, and the miniature schnauzer is known for being very active.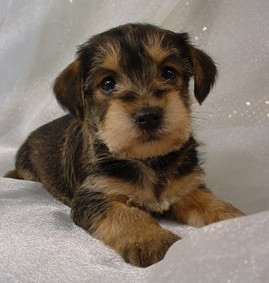 What shows in their intelligence and good breeding is, they can recognize commands and learn tricks very quickly. However, what draws many to the Snorkie is the cuteness of the dog. This dog for sale, in our opinion, is one of the cutest dogs out there, from its early days as a puppy to when it's full grown.
The Snorkie is a compact dog which would fit nicely into most families. It does well with both other dogs and children. Though it's an active dog, it can handle smaller indoor areas like apartments. But, if the space is available, this puppy is more than willing to take advantage of it. They have a square shaped head, big brown eyes, and can have erect or floppy ears. They typically stand 7-12 inches off the ground and weight from 6-14 pounds. The build of the Snorkie's body can vary, depending on what traits it takes from its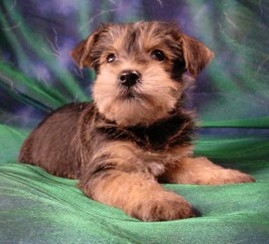 parents.
Our Snorkies have beautiful hair as well. Every puppy has different markings of soft, straight, and silky smooth black and tan hair. Its coats are full around the body, and it gets a little more bushy around the eyes, cheeks, chin, and feet. The Snorkie's hair doesn't grow as long as purebred Yorkies, so you won't be stuck doing extensive grooming with the dogs available here on Purebred Pups. Another relation to the Yorkie is the fact they can be challenging to housebreak, however, with the Snorkie you will have little or no trouble housebreaking.
Why not try our unique puppies for sale, the Snorkies, which are so full of personality and beauty? We are professional dog breeders, breeding purebred and designer mix dogs just like the Snorkie for the past 12 years.