Chihuahua
Want the best-of-the-best in Chihuahuas? Want a purebred dog that is small, energetic, and affectionate? The Chihuahua is the perfect, tiny dog for your home. Why? Because, as the American Kennel Club says, it's a graceful, alert, little dog with terrier-like qualities of temperament.
It's the kind of puppy for sale which, when bought, will lighten the atmosphere in your home. It has the perfect temperament to be around anyone: children and parents, friends and neighbors.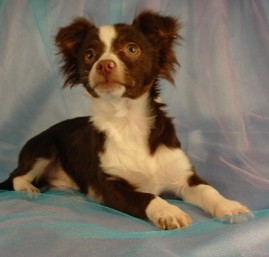 The Chihuahua wants affection, and is more than willing to give it back. They are loyal pets and get very attached to their owners. Buying a dog like the Chihuahua is the true meaning of "Man's best friend."
They are very intelligent dogs who can learn commands quickly with gentle, positive training.
What's best in buying a Chihuahua is its small size. From Purebred Pups, you get Chihuahuas around 6-9 inches, weighing between 3-7 pounds. If you live in an apartment, these dogs are perfect companions. They need only small areas to exercise, making it easy to leave them alone. However, because of their small size, it's sometimes harder to housebreak these dogs, which can be corrected with paper training.
Our Chihuahua puppies for sale can have either short hair or long hair. The coat of these puppies comes in many different colors, usually from Purebred Pups these animals use combination of white, tan, cream, chocolate, and brown. The short haired puppies for sale have a smooth and glossy coat which requires no grooming other than bathing and occasional brushing. Long haired Chihuahuas are soft and straight with a nice undercoat.
These animals are perfect for any small living space. For even bigger homes, the Chihuahuas are perfect additions as they are smaller, causing far less potential damage to the home than a larger dog. They are still smart, active animals who can be trained easily.
Purebred Pup Chihuahuas are some of the best available, getting socialized and used to being a companion prior to being sold. In terms of dogs for sale, it's harder to see all the advantages of getting a smaller animal for a smaller home or apartment. Purebred Pups promises a Chihuahua that is not only socialized, but also comes with a guarantee of health and genetics. For a reasonable price, you can get a companion for many years.