Welcome to Pure Bred Pups in Joice Iowa! View our Bichon Poodles puppies for sale, new/upcoming litters, sold Bichon Poodles puppies and past litters.
The Bichon Poodle is a designer mix which has a Bichon Frise mother, and a purebred miniature poodle father. This mix works well for small homes or apartments, because both pure breeds, before breeding, are small, and they retain that. The Bichon Poodle also does little shedding, much like both parents. It's the perfect family pet for any home, as they shed little in comparison to any other dog breed, and light up the room.
Why not go for one of the best combinations of purebred dogs? Why go for huge dogs which do more than just shed, but cause havoc in some homes? Go with the Bichon Poodle puppies for sale, and you will see how they love companionship and are easy to groom.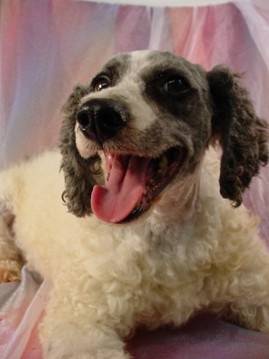 Designer mixes sometimes are about looks, but this Bichon Poodle not only looks beautiful, but is a smart, friendly, loving dog that will be a joy for any family. If you want a smart dog that appeals to the eye, the Bichon Poodle dog for sale here on Purebred Pups is the perfect choice for the family.
Some dogs are just-plain untrainable from the beginning. However, these puppies are happy, incredibly smart, affectionate, and easy to train. It comes from the original breeds. For example, according to the American Kennel Club (AKC), the Bichon is a small, sturdy animal with a "merry temperament." And the AKC also mentions that the Poodle can fit into any home or apartment.
Do you want a pet for your children? If you want a safe pet that will require little hard work from you, why not go for a socialized purebred pup from us? The Bichon Poodle is a loving dog which fits in perfectly with any family or home. It has a gentle personality perfect for any family with children.
Full grown, our Bichon Poodle ranges in height from 10-14 inches, and weighs between 10-16 pounds, fitting well into any home. And they are homely not just in personality; they are the lowest shedders of any breed. It also has soft, loose curls that the purebred poodle sometimes has. The colors vary from solid cream, white, to apricot, and often have a mixture of two colors. The Bichon Poodle has little trouble with other animals as well.
Purebred Pups is a specialized breeder, offering some of the best pups who will fit perfectly into any home. The dogs for sale here provide a joy and happiness to family life, while requiring little hard work in maintaining them.